Magento 2 Product Question and Answer Extension
Current extension version: V2.1.7
Compatibility: Magento CE 2.1.x, 2.2.x, 2.3.x, 2.4.x
Benefits of using
Magento 2 Product Question and Answer Extension
The Magento 2 Product Question and Answer extension will allow the customer to ask queries regarding a product, then the administrator, as well as customers, will be able to respond to these queries. The customers can also upvote or downvote the responses as required.
ScreenshotsSee what Magento 2 Product Question and Answer Extension looks like
Extension DemosSee feature details of this extension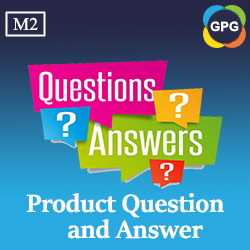 No need to customize,
Buy now
Magento 2 Product Question and Answer Extension
Special Price
€99.00
Regular Price
€299.00
The extension helps to display a form on the product page, that allows the customer to submit a question related to that product.
Why do you choose the Product Question and Answer of us?
The customer can ask questions/queries to the admin on each product.
The customer can upvote or downvote the response.
The customer can search the questions
Admin, as well as customer, can respond to queries.
Admin will manage all the questions and answers.
Email notifications will go to customer and admin for questions and responses.