Magento 2 Professional FAQs Extension
Current extension version: V2.2.0
Compatibility: Magento CE 2.1.x, 2.2.x, 2.3.x, 2.4.x
Benefits of using
Magento 2 Professional FAQs Extension
When you open an online sales website, allow customers to perform product viewing, ordering, and payment operations. The first time customers visit your website, they will have many different questions such as how to register an account, how to order, how to pay for the item they will buy, and there will be many different questions related to the features that your website is offering to users.
So quickly you create a page that shows all the most frequently asked questions related to the features your website is supporting, so users will easily find them and get answers, Instead of contacting the customer service department to ask old questions again. The Frequently Asked Questions (FAQ) section is a part of your website where you address common concerns, questions, or objections that customers have. The Professional FAQs are designed to help you easily manage the content of frequently asked questions and publish it to your readers in the most professional way possible.
So where will the FAQs be displayed?
Show FAQs on the Product page

Show FAQ Categories List in the Sidebar

Show FAQ link on the drop-down category menu
ScreenshotsSee what Magento 2 Professional FAQs Extension looks like
Extension DemosSee feature details of this extension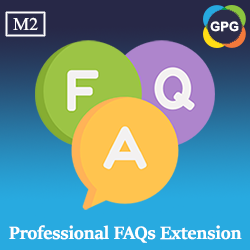 No need to customize,
Buy now
Magento 2 Professional FAQs Extension
Special Price
€109.00
Regular Price
€399.00
This extension helps you to manage FAQs and display the FAQs on your storefront. 
Why do you choose the Professional FAQs of Us?
This is a version using the Entity-Attribute-Value model (EAV)
Support for multiple websites and multiple languages
The FAQs is friendly with Search Engine Optimization (SEO)

The Professional FAQs are friendly with users, at this moment we provide three types of layouts for users on the frontend.